Surprise! You can make brunch in a slow cooker. This veggie-packed frittata is infused with Mediterranean flavors. Invite your friends over, toss a fresh fruit salad, toast some whole-grain country bread, and you're ready for an almost effortless get-together.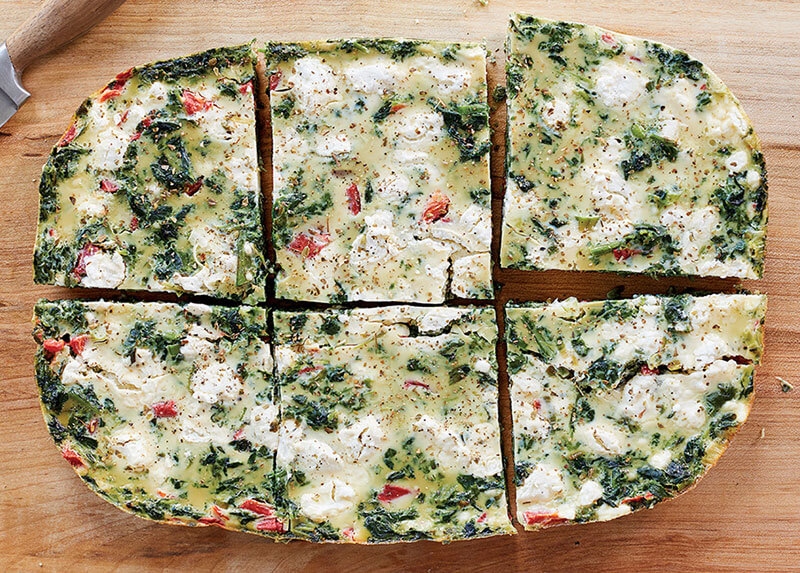 Slow Cooker Size/Shape: 3- to 4 1/2-quart round (preferred) or oval
Slow Cooking Time: 2 1/2 to 3 hours on low
Servings: 6
Serving Size: 1 wedge per serving
Ingredients
Cooking spray
4 large eggs
4 large egg whites
1/3 cup low-fat milk
1/2 teaspoon dried oregano (crumbled) – Add more, if you like, to substitute for salt.
1/4 teaspoon pepper
10 ounces frozen chopped spinach, thawed, drained, and squeezed until very dry
1/2 cup bottled roasted red bell peppers, drained, patted dry, and chopped
3 ounces soft goat cheese, crumbled
2 small thinly sliced green onions
Directions
Lightly spray the slow cooker with cooking spray.
In a large bowl, whisk together the eggs, egg whites, milk, oregano, and pepper. Stir in the remaining ingredients. Pour into the slow cooker.
Cook, covered, on low for 2 1/2 to 3 hours, or until set (the frittata doesn't jiggle when the slow cooker is gently shaken). Using a wide spatula, gently lift the frittata out of the slow cooker. Transfer to a cutting board. Let stand for 5 minutes before slicing.
Source: American Heart Association, heart.org
Please note, the information provided throughout this site is not intended or implied to be a substitute for professional medical advice, diagnosis or treatment. All content, including text, graphics, images, and video, on or available through this website is for general information purposes only. If you are experiencing related symptoms, please visit your doctor or call 9-1-1 in an emergency.