Warm up with this Classic American staple turkey chili.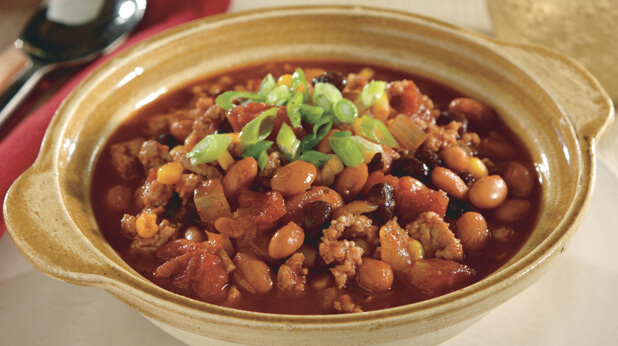 Servings: 6
Serving Size: 1 1/3 cups
Ingredients
Cooking spray
1 1/2 Tbsp. canola or corn oil
1 medium or large onion, chopped
20 oz. ground, skinless turkey breast
2 large garlic cloves (minced) or 1/2 tsp. garlic powder
2 tsp. chili powder
1/2 tsp. pepper
1/2 tsp. ground cumin
15.5 oz. canned, no-salt-added pinto beans (rinsed, drained)
15.5 oz. canned, no-salt-added black beans (rinsed, drained)
14.5 oz. canned, no-salt-added, diced tomatoes (undrained)
1 3/4 cups fat-free, low-sodium chicken broth
1 cup frozen whole kernel corn
6 oz. canned, no-salt-added tomato paste
4 medium green onions ((green part only), sliced)
Directions
Lightly spray a Dutch oven with cooking spray. Add the oil and heat over medium-high heat, swirling to coat the bottom. Cook the onion for 3 minutes, or until soft, stirring occasionally.
Reduce the heat to medium. Stir in the turkey. Cook for 5 minutes, or until browned, stirring frequently to turn and break up the turkey.
Stir in the garlic, chili powder, pepper, and cumin. Stir in the remaining ingredients except the green onions. Cook for 5 to 7 minutes, or until heated through, stirring frequently. Just before serving, sprinkle with the green onions.
Source: American Heart Association, heart.org
Please note, the information provided throughout this site is not intended or implied to be a substitute for professional medical advice, diagnosis or treatment. All content, including text, graphics, images, and video, on or available through this website is for general information purposes only. If you are experiencing related symptoms, please visit your doctor or call 9-1-1 in an emergency.