When you crave takeout but don't want to load up on saturated fat and sodium, try this quick and crunchy meatless meal-in-one.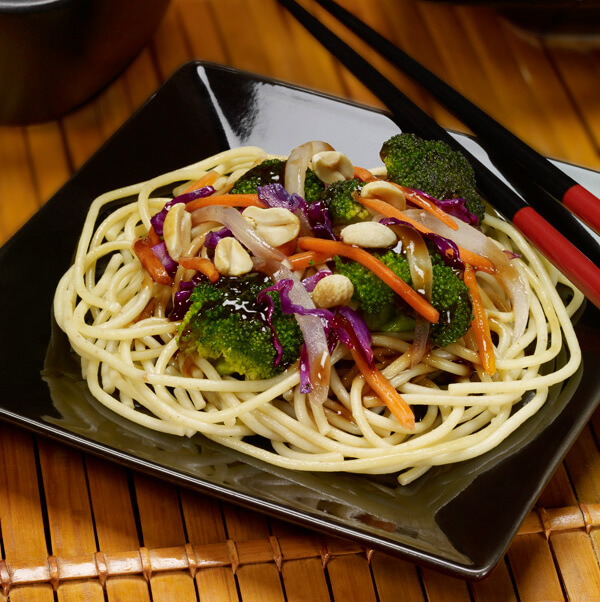 Ingredients
Servings: 4
Serving Size: 1 ½ cups per serving
Pasta
4 oz. dried, multigrain vermicelli or spaghetti
2 tsp. curry powder
Sauce
2 Tbsp. sugar
2 Tbsp. low-sodium soy sauce (lowest sodium available)
2 Tbsp. balsamic vinegar
1 tsp. cornstarch
1/4 tsp. crushed red pepper flakes
1/3 cup fresh orange juice
2 tsp. grated orange zest
Stir Fry
1 tsp. canola oil or 1 tsp corn oil
1/2 cup thinly sliced onion
2 cups broccoli florets (about 5 ounces), cut into bite-size pieces
1 cup thinly sliced cabbage
1 cup chopped carrots (cut into matchstick-size strips)
Directions
1/2 cup unsalted, unoiled peanuts (dry-roasted)
Prepare the pasta using the package directions, omitting the salt and oil and adding the curry powder. Drain well in a colander.
Meanwhile, in a small saucepan, combine the sugar, soy sauce, balsamic vinegar, cornstarch, red pepper flakes, and orange juice, stirring until the cornstarch is completely dissolved. Bring to a boil over medium-high heat and boil for 1 minute. Remove from the heat. Stir in the orange zest. Set aside.
In a large nonstick skillet, heat the oil over medium-high heat, swirling to coat the bottom. Cook the onion for 1 minute. Stir in the broccoli, cabbage, and carrots. Cook for 4 minutes, or until just tender-crisp, stirring frequently.
Transfer the pasta to a serving platter. Top with the broccoli mixture. Pour the sauce over all. Sprinkle with the peanuts.
Source: American Heart Association, heart.org
Please note, the information provided throughout this site is not intended or implied to be a substitute for professional medical advice, diagnosis or treatment. All content, including text, graphics, images, and video, on or available through this website is for general information purposes only. If you are experiencing related symptoms, please visit your doctor or call 9-1-1 in an emergency.