These grilled chicken-and-vegetable kebabs feature the flavors of sunny Tuscany—lemon, rosemary, garlic, and oregano. Serve them with brown rice and with sun-dried tomatoes for a rustic and satisfying dinner.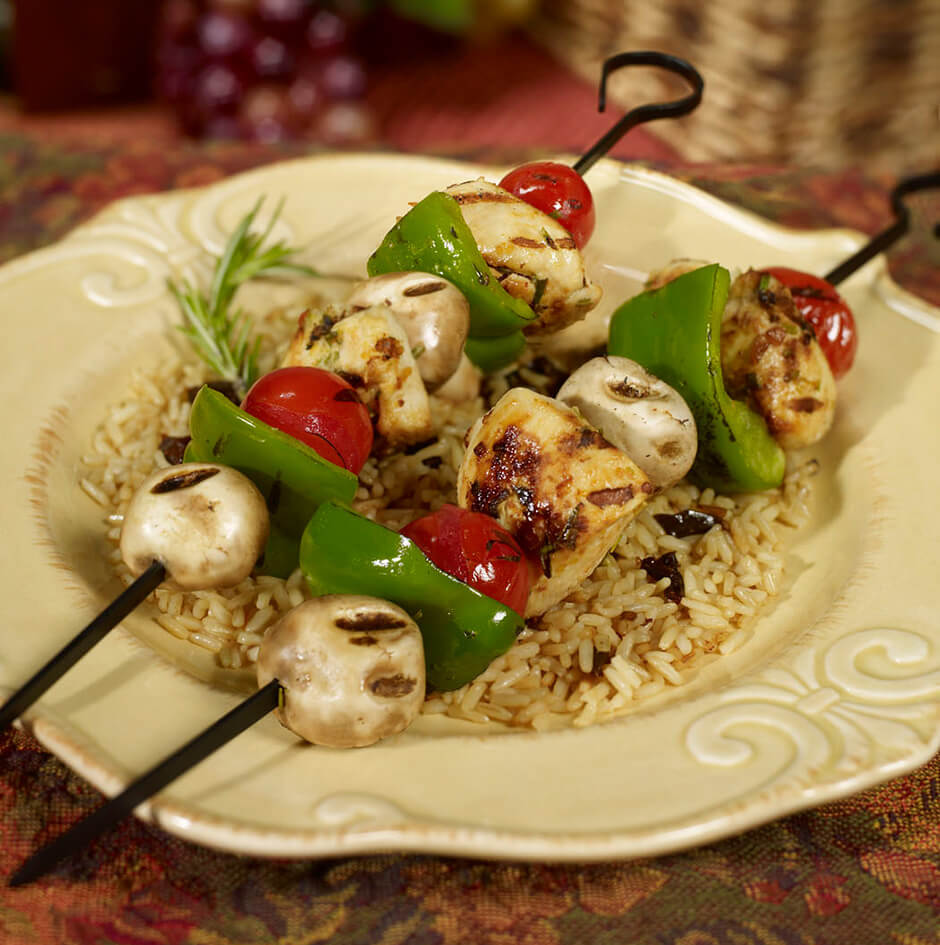 Servings: 4,
Serving Size: 2 kebabs (3 ounces chicken and 1/2 cup vegetables) and 1/2 cup brown rice per serving
Ingredients
1 tsp. grated lemon zest
2 Tbsp. fresh lime juice
1 Tbsp. fresh, chopped rosemary or 1 tsp. dried rosemary (crushed)
2 tsp. olive oil
2 clove fresh garlic (minced)
1 tsp. dried oregano (crumbled)
1/4 tsp. crushed red pepper flakes
1 lb. boneless, skinless, all visible fat discarded chicken breasts, cut into 16 cubes
16 whole button or cremini mushrooms (about 1/2 ounce each), ends trimmed
1 medium green bell pepper, cut into 16 pieces
16 cherry tomatoes
non-stick Cooking spray
1/2 cup uncooked, instant brown rice
1 cup fat-free, low-sodium chicken broth
1/4 cup dry-packed sun-dried tomatoes, cut into 1/4-inch cubes
Directions
In a medium nonmetallic bowl, stir together the lemon zest, lemon juice, rosemary, oil, garlic, oregano, and red pepper flakes. Add the chicken, stirring to coat. Cover and refrigerate for at least 15 minutes. The chicken can marinate for up to 8 hours for even more flavor. Turn several times if marinating for more than 30 minutes.
Soak eight 8-inch wooden skewers for at least 10 minutes in cold water to keep them from charring, or use metal skewers. Preheat the grill on medium high
Drain the chicken and discard the marinade. Alternately thread the chicken, mushrooms, bell pepper, and tomatoes on the skewers. Lightly spray all sides with cooking spray.
In a medium saucepan, bring the broth and tomatoes to a boil over high heat. Stir in the rice. Reduce the heat and simmer, covered, for about 10 minutes. Remove from the heat and let stand for about 5 minutes. Fluff with a fork.
Meanwhile, grill the kebabs for 2 to 3 minutes on each side (8 to 12 minutes total), or until the chicken is no longer pink in the center and the vegetables are tender. Serve with the rice on the side.
Source: American Heart Association, heart.org (hyperlink)
Please note, the information provided throughout this site is not intended or implied to be a substitute for professional medical advice, diagnosis or treatment. All content, including text, graphics, images, and video, on or available through this website is for general information purposes only. If you are experiencing related symptoms, please visit your doctor or call 9-1-1 in an emergency.